Class levels are based on a combination of skill and age. While placement tends to follow age more closely, there are occasional exceptions in order to offer the best experience for each student. If you have questions regarding which level your dancer should be taking or don't see a class you are looking for, please let us know!
---
Fall 2021 Schedule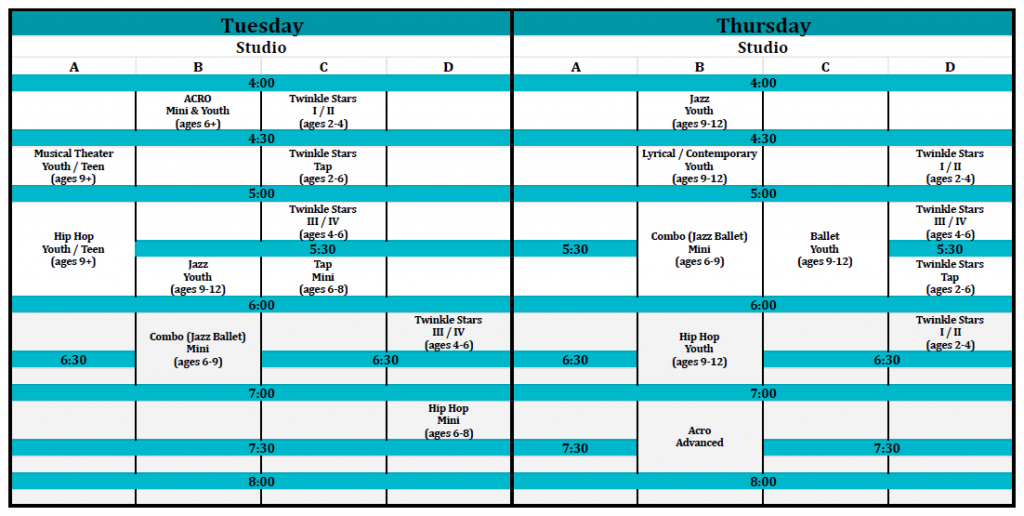 ---
Class Descriptions
Twinkle Stars – Pre-School/Kindergarten
One of our most popular programs. These classes are designed to introduce your 2-6-year-old to dance! The Twinkle Stars program focuses on creative movement, expression, and introductory dance technique. Students will learn both ballet and jazz in these fun and exciting classes. Select the class that fits your dancer's age.
Mini Combo
Geared towards beginner students ages 6-8, the Mini Combo classes combine Jazz & Ballet into one class. This is a great option for dancers who just finished the Twinkle Stars program or are new to dance completely!
Ballet – youth
Taught by our fantastic ballet faculty, this class is designed for our students who have 1 year of previous ballet training. If your student has completed Twinkle Stars or Beginning Combo, this is a great next step!
Ballet – teen
Get ready to explore the world of ballet even more in this intermediate/advanced ballet class. This class is recommended for students who have had at least 2 years of previous ballet training.
Jazz
Upbeat and fast-paced, jazz is a fan favorite style at Dance Gallery. Hone your skills such as leaps, pirouettes, jumps, and kicks while dancing along to classic and modern pop tunes. Students will explore their movement style as well in these classes. Select the class that fits your dancer's age.
Hip Hop
Learn hip hop technique fundamentals such as popping, locking, and grooving as well as stylized movement in our popular hip-hop classes. Select the class that fits your dancer's age.
Tap
Technique and rhythm combine in the world of tap providing a space for students to explore their musicality. Select the class that fits your dancer's age.
---
2021-2022 ENROLLMENT PACKET